Durango Walmart Supercenter Store #2270, Colorado

(department store ) - Location & Hours
Store Details
1155 S Camino Del Rio

Durango
,
Colorado
81303
Phone: (970) 259-8755

Regular Store Hours
Open 24 hours

Store hours may vary due to seasonality.
Price: $29.97
The Anker Advantage: Join the 10 million+ powered by our leading technology. Remarkably Compact: The smallest and lightest 10000mAh portable charger. Provides almost three-and-a-half iPhone 6s charges or three Galaxy S6 charges. Fast-Charging Technology: Anker's exclusive PowerIQ and VoltageBoost combine to deliver the fastest possible charge for any device. Qualcomm Quick Charge not supported. Certified Safe: Anker's MultiProtect safety system ensures complete protection for you and your devices. What You Get: Anker PowerCore 10000 portable charger, Micro USB cable, travel pouch, welcome guide, our worry-free 18-month warranty and friendly customer service. Lightning cable for iPhone / iPad sold separately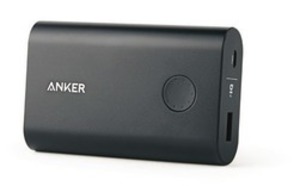 Advertisements
Store Services/Products
Check Cashing
Redbox
Photo Center (970) 259-8792
L.e.i. Apparel
Walmart MoneyCard
Tire & Lube (970) 259-8850
Coinstar
Deli
Same Day Pickup Photo Center
First National Bank & Trust Co
Garden Center
Money Order
Bluebird by American Express
Grocery
Pay with Cash
Beer
1-Hour Photo Center
Flu Shots and Immunizations
Bakery
Connection Center
Liberty Tax Service
Bill Payment
One Hour Guarantee
Vision Center (970) 259-8798
Pharmacy in-store transfer
Rug Doctor
Money Transfer
Store Departments
General Retail
General Retail hours:
Mon - Sun: 10:00 a.m. - 10:00 p.m.

Pharmacy (970) 259-8788
Pharmacy hours:
Mon - Fri: 8:00 a.m. - 9:00 p.m.
Sat: 9:00 a.m. - 7:00 p.m.
Sun: 10:00 a.m. - 6:00 p.m.

Pick Up Today
Pick Up Today hours:
Mon - Sun: 10:00 a.m. - 10:00 p.m.

Site to Store
Site to Store hours:
Mon - Sun: 10:00 a.m. - 10:00 p.m.