London Walmart Supercenter Store #5203, Ohio

(department store ) - Location & Hours
Store Details
375 Lafayette St

London
,
Ohio
43140
Phone: (740) 852-1507

Regular Store Hours
Open 24 hours

Store hours may vary due to seasonality.
Nearby Walmart Locations
Price: $81.00 Â 
Drive Medical,Deluxe Clever Lite Rollator Walker with 5" Casters _Drive Medical Winnie Lite Supreme Aluminum Three Wheel Rollator Aluminum Flame Blue Health Aids and Medicines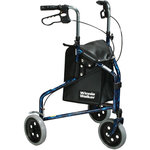 Advertisements
Store Services/Products
Check Cashing
Redbox
Photo Center (740) 852-3981
L.e.i. Apparel
Woodforest Bank
Tire & Lube (740) 852-2717
Walmart MoneyCard
Coinstar
Wine
Deli
Same Day Pickup Photo Center
Garden Center
Fast Key
Money Order
Bluebird by American Express
Grocery
Pay with Cash
Beer
Jackson Hewitt
1-Hour Photo Center
Flu Shots and Immunizations
Connection Center
Bakery
Bill Payment
One Hour Guarantee
Quick Tag
Rug Doctor
Money Transfer
Pharmacy in-store transfer
Store Departments
General Retail
General Retail hours:
Mon - Sun: 10:00 a.m. - 10:00 p.m.

Pharmacy (740) 852-2726
Pharmacy hours:
Mon - Fri: 9:00 a.m. - 9:00 p.m.
Sat: 9:00 a.m. - 7:00 p.m.
Sun: 10:00 a.m. - 6:00 p.m.

Pick Up Today
Pick Up Today hours:
Mon - Sun: 10:00 a.m. - 10:00 p.m.

Site to Store
Site to Store hours:
Mon - Sun: 10:00 a.m. - 10:00 p.m.