Ashland Walmart Supercenter Store #1672, Wisconsin

(department store ) - Location & Hours
Store Details
2500 Lake Shore Dr E

Ashland
,
Wisconsin
54806
Phone: (715) 682-9699

Regular Store Hours
Open 24 hours

Store hours may vary due to seasonality.
Price: $6.82
Pure Balance believes in one pure and simple thought the best nutrition for your dog starts with the best ingredients. Pure Balance Wild & Free Bison, Pea & Venison Recipe is made with carefully selected ingredients to ensure your dog gets all the nutrition he needs without any of the extra stuff he doesn't. This Grain Free contains no corn, wheat, soy or grains making this ideal for dogs with food sensitivities. Our first ingredient is real bison. This along with real venison helps build lean muscle mass in your dog so he can run, jump and play. Antioxidants like vitamins E and C help support and keep your dog's heart & immune system healthy.
Real Bison is the first ingredient
No Corn, Wheat Soy or Grains
Natural ingredients with added vitamins & minerals
No fillers, No artificial flavors, artificial preservatives or artificial colors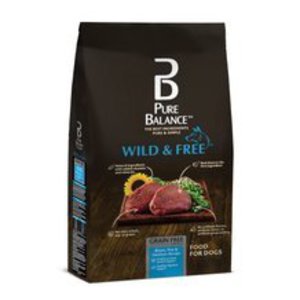 Advertisements
Store Services/Products
Check Cashing
Photo Center (715) 682-1067
L.e.i. Apparel
Walmart MoneyCard
Tire & Lube (715) 682-1061
Deli
Same Day Pickup Photo Center
Garden Center
Money Order
Bluebird by American Express
Grocery
Pay with Cash
Jackson Hewitt
1-Hour Photo Center
Flu Shots and Immunizations
Bakery
Connection Center
Bill Payment
One Hour Guarantee
Money Transfer
Pharmacy in-store transfer
Rug Doctor
Store Departments
General Retail
General Retail hours:
Mon - Sun: 10:00 a.m. - 10:00 p.m.

Pharmacy (715) 682-3660
Pharmacy hours:
Mon - Fri: 9:00 a.m. - 9:00 p.m.
Sat: 9:00 a.m. - 7:00 p.m.
Sun: 10:00 a.m. - 6:00 p.m.

Pick Up Today
Pick Up Today hours:
Mon - Sun: 10:00 a.m. - 10:00 p.m.

Site to Store
Site to Store hours:
Mon - Sun: 10:00 a.m. - 10:00 p.m.