Wenatchee Walmart Supercenter Store #2187, Washington

(department store ) - Location & Hours
Store Details
2000 N Wenatchee Ave

Wenatchee
,
Washington
98801
Phone: (509) 664-2448

Regular Store Hours
Open 24 hours

Store hours may vary due to seasonality.
Price: $218
Enjoy your favorite movies, shows and music with the (SB3851x-C4) VIZIO SmartCast 38" 5.1 Sound Bar System. It comes with a wireless subwoofer and two rear satellite speakers. You can arrange them in the most desirable locations for an incredible 5.1 true surround sound at levels up to 101 dB. In addition, it also gives you access to the VIZIO SmartCast app. Simply download it, and it instantly turns your mobile device into a fully operational remote. You can then use it to play a variety of music from multiple apps. The 38" sound bar system also gives you access to its built-in Google Cast. This allows you to acquire your favorite tunes from over 100 apps you already use and add them to your sound bar. With the (SB3851x-C4) VIZIO 38" 5.1 Sound Bar System you can also connect to multiple VIZIO SmartCast sound bars or speakers and add the same selection or different music to any or every room.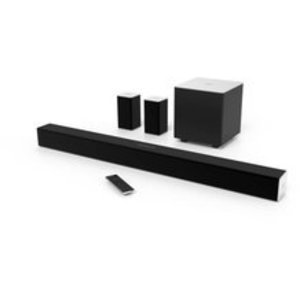 Advertisements
Store Services/Products
Check Cashing
Redbox
Photo Center (509) 664-8851
L.e.i. Apparel
Spirits
Portrait Studio (509) 665-9826
3rd party ATM
Walmart MoneyCard
Coinstar
Wine
Deli
Same Day Pickup Photo Center
Garden Center
Money Order
Bluebird by American Express
Grocery
Pay with Cash
Beer
1-Hour Photo Center
Connection Center
Bakery
Bill Payment
One Hour Guarantee
Vision Center (509) 665-9323
Pharmacy in-store transfer
Money Transfer
Rug Doctor
Store Departments
General Retail
General Retail hours:
Mon - Sun: 10:00 a.m. - 10:00 p.m.

Pharmacy (509) 664-3698
Pharmacy hours:
Mon - Fri: 9:00 a.m. - 9:00 p.m.
Sat: 9:00 a.m. - 7:00 p.m.
Sun: 10:00 a.m. - 6:00 p.m.

Pick Up Today
Pick Up Today hours:
Mon - Sun: 10:00 a.m. - 10:00 p.m.

Site to Store
Site to Store hours:
Mon - Sun: 10:00 a.m. - 10:00 p.m.