Kmart - 1801 Hydraulic Rd in Charlottesville, Virginia (discount department store) - Location & Hours
Store Details
1801 Hydraulic Rd
Charlottesville, Virginia 22901

Phone: (434)296-5646

Regular Store Hours
Mon - Fri: 08:00 - 22:00
Sat: 08:00 - 22:00
Sun: 08:00 - 22:00

Store hours may vary due to seasonality.
Price: $4,599.98  
Beautifully designed cedar building provides convenient outdoor storage space while complementing your home. Cedar is a naturally durable and termite resistant wood that ages beautifully. The classic cottage-style makes this building an elegant addition to your yard while the wide double-doors make it easy to get large items in and out. Built to last with a 25 year warranty!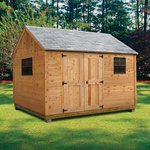 Shop online
Store Services/Products
PHARMACY (434)295-5184
PORTRAIT STUDIO (434)963-2628